This weekend was spent at IDEA-London where the TADHack-mini London hackathon was going on. In total, there were around 18 different projects being hacked on all day Saturday and Sunday morning, before a 5-minute presentation on Sunday afternoon.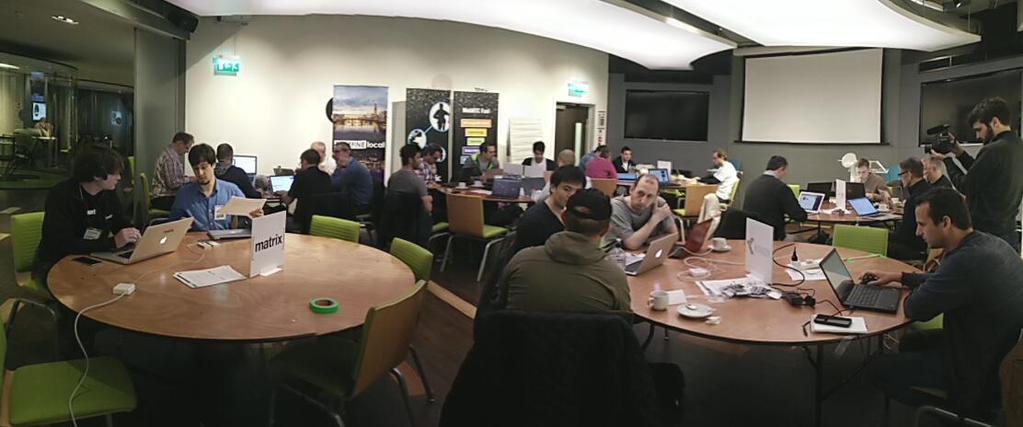 Four different projects used Matrix in one way or another: Matrixbot - a robot controlled through standard messages in a Matrix room - done by Scott Barstow and Anders Brownworth (project code and presentation video and picture). Neil Stratford's hack included lighting up his roll of LEDs whenever a push-notification hit his Matrix webclient (picture from the presentation).
The Co-Browsify hack by Žilvinas Račyla and Augustinas Bacvinka allows two people to browse the same webpage, with scrolling events being collected and duplicated to the other browser via Matrix (picture from the presentation). Finally, Matt Williams of Metaswitch created a Project Clearwater/Matrix Gateway which enables Project Clearwater/IMS to set up WebRTC calls with any matrix user (project code and pictures from the presentation) - this is the first time we have had a SIP-to-Matrix call (let alone IMS-to-Matrix) set up!
As TADHack sponsors, Matrix had two Parrot Drones to hand out as prizes, and the winners for best Matrix-related hacks are Matt Williams for the Clearwater/Matrix Gateway - and Scott Barstow and Anders Brownworth for Matrixbot! We are also happy that the other two Matrix-related projects were rewarded with prizes from the other sponsors (full list of winners).
All in all it was a very productive weekend, both in terms of tech and also meeting people. Thanks to everyone who participated and especially those who worked on Matrix-related hacks!
Next up is the WebRTC conference and its related Kranky Geek event - which will be happen tomorrow and the day after. See you there!