Hi all,
We're happy to announce the release of Synapse 0.19.0 (same as 0.19.0-rc4) today, just in time for anyone discovering Matrix for the first time at FOSDEM 2017!  In fact, here's Erik doing the release right now (with moral support from Luke):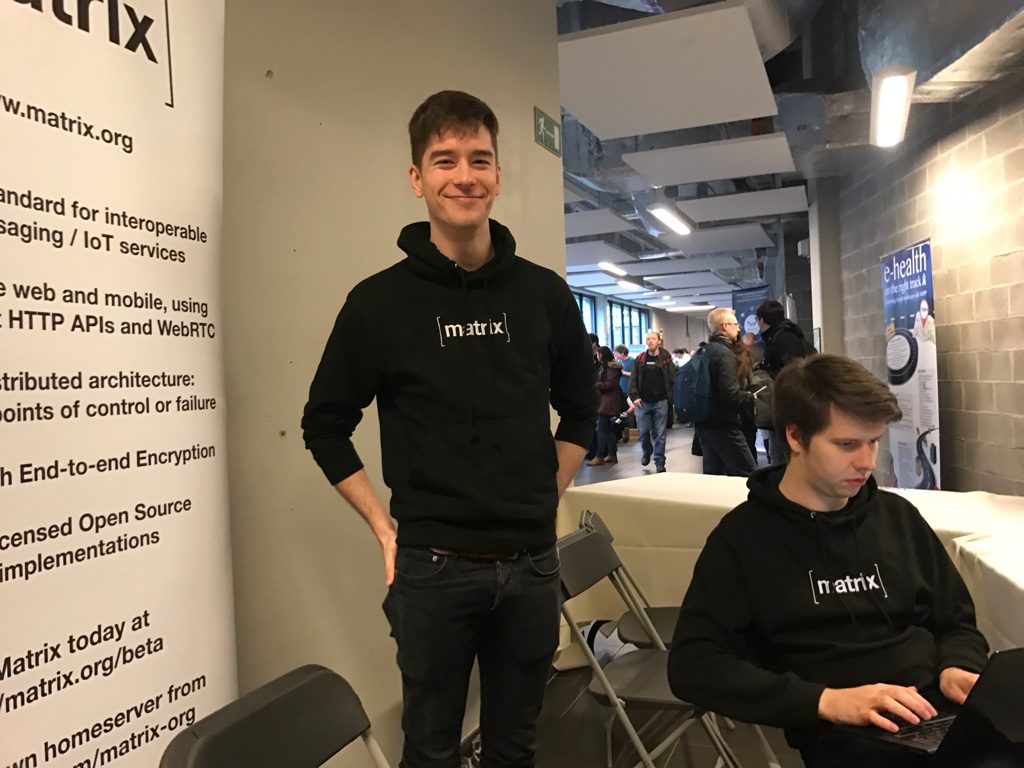 This is a pretty big release, with a bunch of new features and lots and lots of debugging and optimisation work following on some of the dramas that we had with 0.18 over the Christmas break.  The biggest things are:
IPv6 Support (unless you have an IPv6 only resolver), thanks to contributions from Glyph from Twisted and Kyrias!
A new API for tracking the E2E devices present in a room (required for fixing many of the remaining E2E bugs...)
Rewrite the 'state resolution' algorithm to be orders of magnitude more performant
Lots of tuning to the caching logic.
If you're already running a server, please upgrade!  And if you're not, go grab yourself a
brand new Synapse
from Github. Debian packages will follow shortly (as soon as Erik can figure out the necessary backporting required for Twisted 16.6.0)
And here's the full changelog...
Changes in synapse v0.19.0 (2017-02-04)
No changes since RC 4.
Changes in synapse v0.19.0-rc4 (2017-02-02)
Bump cache sizes for common membership queries (PR #1879)
Changes in synapse v0.19.0-rc3 (2017-02-02)
Fix email push in pusher worker (PR #1875)
Make presence.get_new_events a bit faster (PR #1876)
Make /keys/changes a bit more performant (PR #1877)
Changes in synapse v0.19.0-rc2 (2017-02-02)
Include newly joined users in /keys/changes API (PR #1872)
Changes in synapse v0.19.0-rc1 (2017-02-02)
Features:
Changes:
Fixes:
Performance: