This feels like a bumper (extra big) post, so let's get straight into it!
Spec
TravisR
continues to plow through work in documenting, clarifying and confirming the spec. You can check out his project on Github:
August 2018 r0
, which should give an idea of both the scale of the project and the amount of work which has been done. Rather than list out individual items as I have been, please take a look at that project, and come chat in
#matrix-spec:matrix.org
if you'd like to contribute.
Clients
Riot web
Some exciting things on Riot Web this week!
Bruno has merged his work on lazy loading room members lists, which should mean we see some big performance improvements, especially in larger rooms. You can expect to see that released on /develop soon.
He has also just started to work on the riot redesign, and has begun on some of the more visible changes like resizeable panels: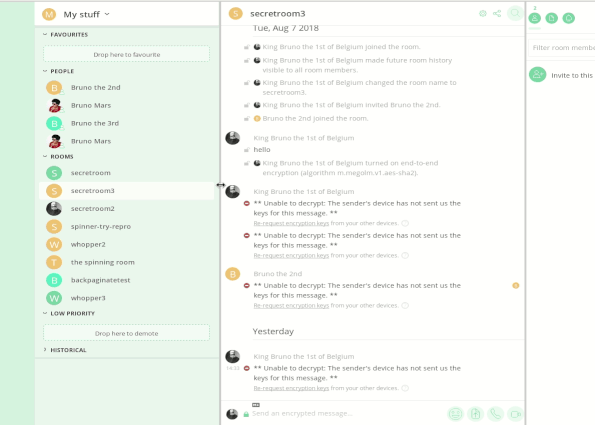 More news on the redesign to come soon!
nheko 0.5.3 released
nheko
0.5.3 was
released
this week. From the changelog:
Features
Add option to disable desktop notifications
Allow user to configure join rules for a room
Add tab-completion for usernames
Improvements
Remove the space gap taken by the typing notifications
Remove hover event from emoji picker
Add tooltips for the message indicators
Fix compilation on FreeBSD
Update Polish translation
Small modal improvements
Seaglass builds being generated
Seaglass
, the MacOS-native client, now has
automatically generated builds available on bintray
.
Seaglass is now a very usable and stable client on macOS. neilalexander has been very active this week:
For some more context:
Giveth is re-engineering charitable giving, by creating an entirely free, open-source platform, built on the Ethereum Blockchain.
The current
giveth-bot
:
handles welcoming people, can answer questions and handle our crazy points dishing system to reward contributors!
mautrix-telegram
mautrix-telegram
now has an official 0.3.0 release. Says
tulir
:
No major changes since the release candidates last week, except a Telethon update that might have fixed history backfill.
"The End of GSOC"
Well, it may well be the end of the Julian's
GSOC 2018
experience with the
Fractal
project, but I think Google will continue to run the programme. Check out Julian's experience (and the
large
number of issues resolved!)
in this blog post
.
OggCamp
This weekend Neil and I will be representing Matrix at
OggCamp
, "an unconference celebrating Free Culture, Free and Open Source Software, hardware hacking, digital rights, and all manner of collaborative cultural activities", if you will be there, come find and chat to us. We'll be the two nerdy-looking guys, so we should be easy to spot.
We'll meet again…
But for now, you can watch Neil host Matrix Live below (using the fan-favourite format of walking around the office), and come chat to us in
#twim:matrix.org