Matrix Live, Synapse roadmap and Synapse 0.99.1.1
As you may have seen, Matrix Live this week features Neil and Matthew
discussing the newly announced backend roadmap
.
We also have Synapse v0.99.1.1 available, as the race to Synapse v1.0 gets closer and closer and closer!
Brendan also said, regarding low-bandwidth:
Some of the week has been spent finalising the components used in the low-bandwidth demo we did at FOSDEM. This required polishing some internal developments, which are now almost ready to be published to the wide world! This should happen in the next few days so stay tuned :)
Riot 1.0.0, and hotfix 1.0.1
If you're following Matrix much at all, you will surely have seen it by now: Riot, the most popular client, has
announced the v1.0 milestone
. I won't reiterate the features and improvements here, but do check out the blog post, or just head over to
https://riot.im/app
and see for yourself!
Particularly exciting is the new encryption verification process, involving sharing a list of emojis out-of-band:
MSCs update provided by MSCBot
In Progress MSCs
MSC1194
.
Riot iOS
Last iteration on key backup UX
Finish reskin
Support Room v3 events ids
Key import (manual or backup restore) has been optimised. It is now 30x > quicker
An RC candidate will be available over the weekend
Scheduling, holidaying and illness means no update from Riot Android this week.
Artificial Intelligence Chat Bot tutorial
I like this short series on creating a Chat Bot using
textgenrnn
:
New(ish!) Python SDK: matrix-nio
Since we haven't featured their work here at all I wanted to give some space to
poljar
. They've been working on a
Weechat-Matrix protocol script
, but as part of this project they created a new Matrix client library,
matrix-nio
, "designed according to
sans I/O
principles".
As if this wasn't enough! python-olm is a library providing Python bindings for Olm (enabling E2E encryption for Matrix.)
FluffyChat v11 preview
FluffyChat
is a pure QML Matrix client, designed to be used on smartphones running Ubuntu Touch.
Krille
, the author is working on:
boring refactoring stuff :-( at the moment to prepare everything for e2e encryption work
. . .which seems to me not boring at all - we can expect, in the next few months, another Matrix Client with E2EE support, and on mobile!
In my role as editor of this particular blog post, I enjoy certain luxuries that others might envy. For example, today, I tried a new preview build of FluffyChat. This I installed on my barely-repaired OnePlus One running Ubuntu Touch 16.04.
For the eager early testers not afraid of building from source, matrix-archive-keyring version 2015.12.09+debian0.10 is available for early testing (attached).

# Something like this! sudo apt install devscripts tar -xfvJ matrix-archive-keyring_2015.12.09+debian0.10.tar.xz cd matrix-archive-keyring_2015.12.09+debian0.10 debuild -us -uc sudo dpkg -i dpkg -i ../matrix-archive-keyring_2015.12.09+debian0.10_all

Please follow Debian Bug#922155 for updates. Debian binary packages will be available later sometime this/next week from Debian's unstable distribution (contrib), if all goes well and there are no remaining Debian policy violations or serious bugs.

See also: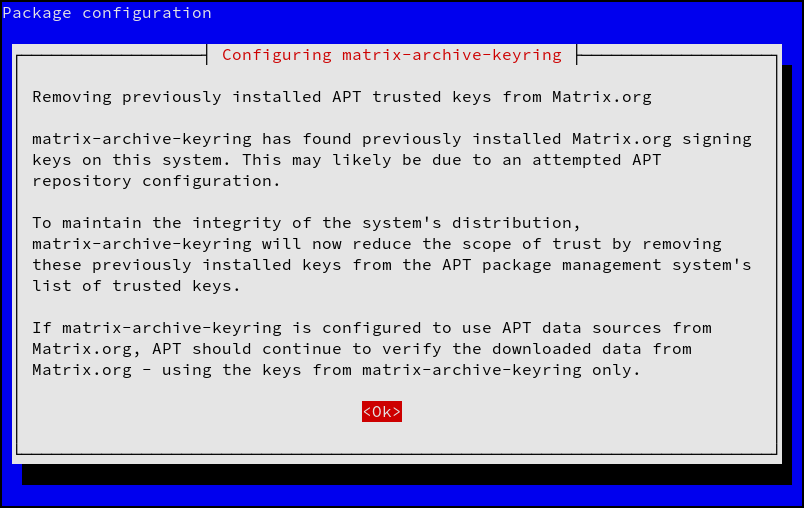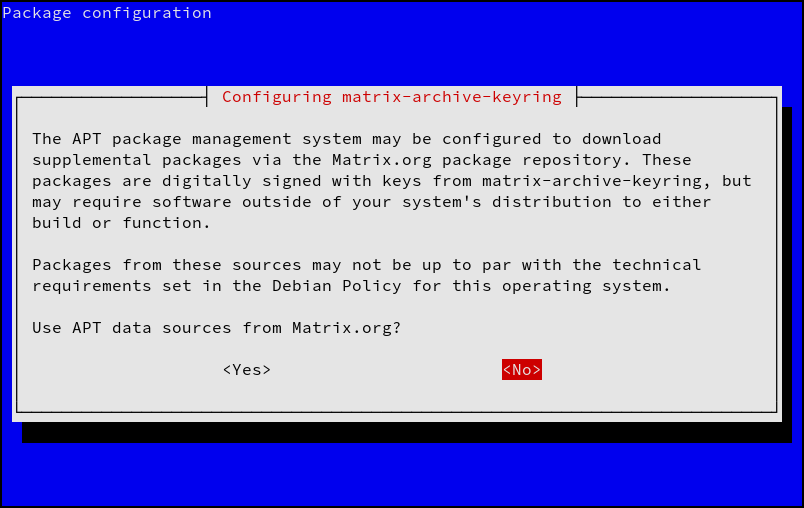 Gridepo
Max
again:
Gridepo, as a Matrix Homeserver, is gaining basic support for Matrix Client API. We have basic login, room creation, message sending and sync working! A little screen recording of the progress can be viewed here for live action with Riot. As a reminder, Gridepo is a clean rewrite of mxhsd.

This is not usable yet outside of a dev environment but we should have a first usable version with federation in a couple of weeks!
Mention Bots page
We have a new location for listing bots:
https://matrix.org/docs/projects/bots
, message
benpa
with any you think should be included!
That's all I know
That's all we have for now, but come join us in
#twim:matrix.org
to share your project and share the fun, and I'll see you back here next week.