Matrix Live S3E17: Hello Ryan
This week you're stuck with me, but I'm chatting to Ryan, who works on Riot web. Having previously worked at Mozilla, Ryan has a LOT of interesting things to say about Firefox, the browser market, the importance of decentralisation, Matrix being GREAT, and more.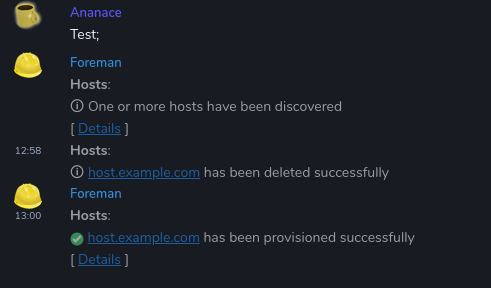 maubot
tulir
:
maubot plugins can now add their own endpoints to the main maubot webserver. The pingstat plugin I announced last week uses this feature for the leaderboard widget: https://maubot.xyz/_matrix/maubot/plugin/pingstat/stats?room_id=!MbRaSiMIRhhxDtJENL:maunium.net
matrix-appservice-bridge 1.8.0, matrix-appservice-irc 0.12.0-rc1: room upgrades and more
Half-Shot
:
matrix-appservice-bridge got a 1.8.0 release last night, featuring automatic handling of room upgrades for all your room upgrade needs. Providing your bridge uses the RoomStore as designed, it's literally a few lines to enable :). Changelog here

What is this? A matrix-appservice-irc release? No, it's a release candidate. Announcing that 0.12.0-rc1 is now out and about for folks to play with. More IRC updates to come in the future :)
mautrix-whatsapp
tulir
:
mautrix-whatsapp now has support for postgres databases thanks to a pull request by @Rennerdo30
mautrix-telegram
tulir
:
mautrix-telegram got a pull request with a pytest setup and a few unit tests by @V02460. I haven't merged that one yet, but will soon.
matrix-docker-ansible-deploy supports Dimension
This is really neat, and a shout-out that these playbooks are my preferred way to install Synapse and other components.
Slavi
:
Thanks to NullIsNot0, matrix-docker-ansible-deploy can now (optionally) install the Dimension Integration Manager.
The playbook can now also assist with serving the base domain from the Matrix server, thus making it easier for some folks to set up well-known Server-Delegation.
Self-hosting guide for NixOS
Florian
:
I wrote a Matrix self-hosting guide for the NixOS operating system: Check its progress and give it a test if you're a fellow NixOS user!
banhammer: new bot for applying a ban policy
jcgruenhage
reports that:
I wrote a small bot that takes a kick/ban policy from room state from all rooms it's a member of and tries to enact that policy. In practice that means it applies a regex to all MXIDs and tries to kick/ban them based on that. It's been a request of TravisR , source code is available at https://gitlab.com/jcgruenhage/banhammer, documentation is still lacking but will hopefully soon be added
matrix-wug support for Navajo script
Continuing his theme of Native American languages,
Dandellion
added Navajo script to
matrix-wug
.
FreedomBox Tutorial: Setting Up a Chat Server with Matrix and Riot
It's been possible for some time to set up a Matrix server with FreedomBox, and they just recently released a video tutorial showing the process.