Matrix Live 🎙
Dept of Status of Matrix 🌡
Last week Matrix had a presence at UbuCon Europe and PyCon Ireland. We gave workshops on using Matrix to create bots, and also a session on installing Synapse (see also: Brendan's entry below!)
Hey #PyConIE! We hope you enjoyed the Matrix workshop, find the slides and code samples at https://t.co/aT1dDuEcm1 and make sure to ask any more questions! pic.twitter.com/C2qwV5R3gl

— Matrix (@matrixdotorg) October 12, 2019
Tomorrow I'm off to sunny Manchester with Michael from the Ops team. We'll visit OggCamp, where we'll show off Matrix with a fun demo I previewed on Matrix Live a few weeks ago.
Matrix will ALSO be at:
Dept of Spec 📜
anoa:
Last week we set MSC1219 (key backups), MSC2241 (verification over DMs), and MSC2313 (ban lists) for the spec core team to focus on. Those 3 are rolling on into this week as we didn't get a lot of work done last week :)
In other Spec news, Matthew uncovered a stone tablet describing what would in future be known as "MSC2324":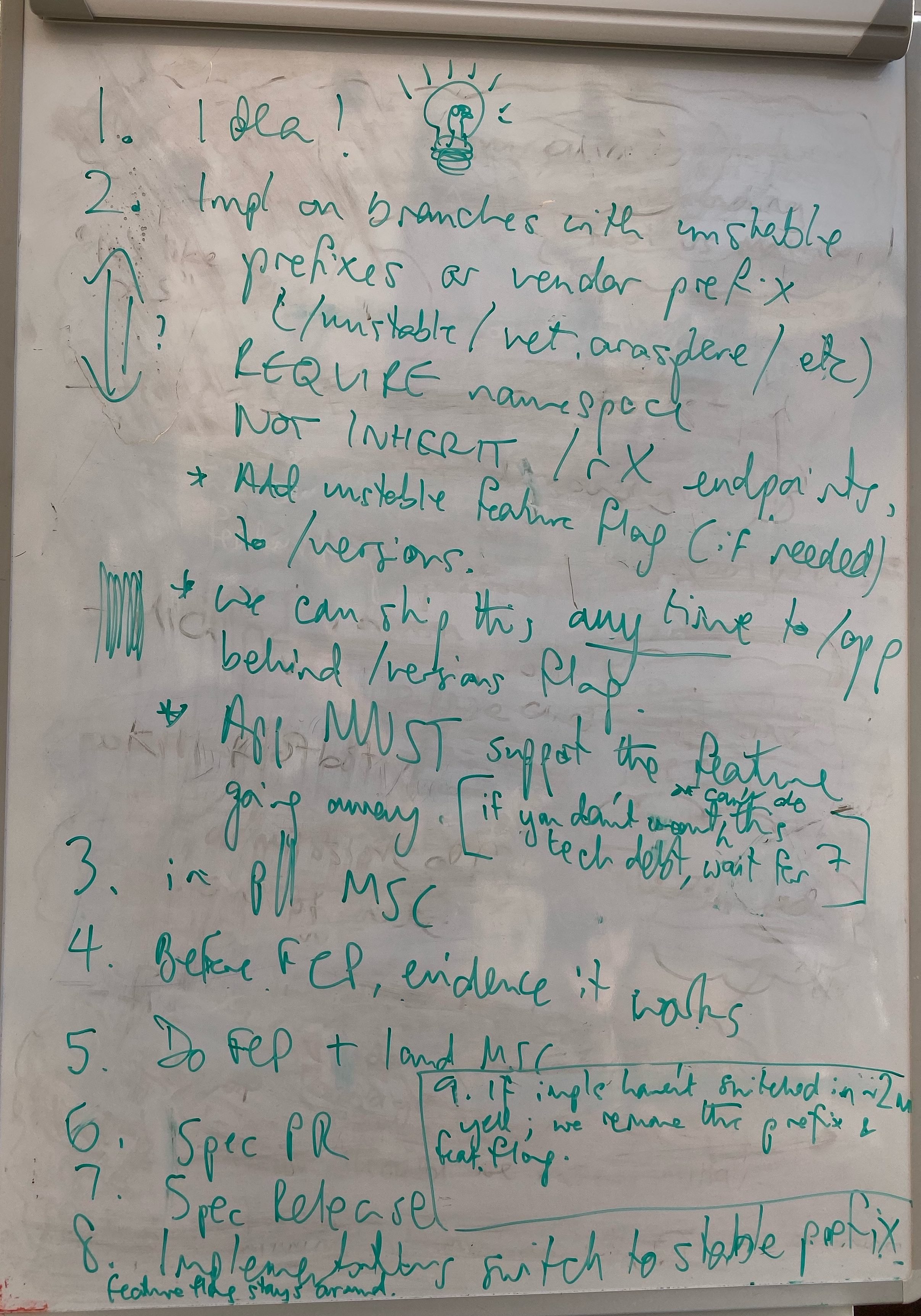 Dept of Servers 🏢
install-party, nice result from UbuCon Europe
Brendan said:
For a workshop anoa and I did at Ubucon Europe last Sunday on how to install Synapse, I worked on a side project that creates a server, attaches a domain name to it and installs Riot and Caddy on it. Attendees can then SSH into it, follow the instructions to install a Matrix homeserver, and use Riot to register an account on it, log in, and join a federated room with all of the other attendees' homeservers in it. We tried it out last week-end for the actual workshop and it worked quite well 🙂 The project is called Install Party, and lives at https://github.com/babolivier/install-party, and if you want to chat about it I've just created #install-party:abolivier.bzh 😉
Synapse
Neil reported:
This week we've been thinking about the future and brainstorming on ideas to improve perf for small instances and sparing some cycles for MSC1228. Next week we'll return to improving IO usage on matrix.org.
Synapse 1.4.1 was released, which fixes a small regression in 1.4.0.
Dept of Bridges 🌉
Matrix-Slack Bridge on NixOS
@christian:kampka.net said:
Just FYI, the matrix slack bridge is now available via NixOS: https://github.com/NixOS/nixpkgs/pull/70753
Dept of Clients 📱
riots.im available via IPFS
Remember https://riots.im from last week? Now available on IPFS!
@swedneck:permaweb.io said:
toml's riots.im is also available via IPFS: ipfs get riots.im or visit localhost:8080/ipns/riots.im with ipfs installed and running.
Riot-iOS 0.10.0
Manu offered:
On Riot-iOS land, Riot-iOS 0.10.0 has been released on the App Store. We have started a stabilisation sprint. In parallel, we are still polishing the privacy work
RiotX release next week
benoit announced:
RiotX: we are merging waiting PRs and have postponed the release to ensure a maximum of stability and polishing. The release will be done at the beginning of next week and will contains: read marker, camera picker and improved file picker, share to RiotX capability and many bugfixes.
Dept of SDKs and Frameworks 🧰
matrix-3ds-sdk
sorunome said:
Heya, matrix-3ds-sdk is a new matrix sdk - for the Nintendo 3DS! It is still deep in development, so expect bugs, some things not working properly etc. Current features include:

logging in
sending text messages to rooms
redacting events from rooms
resolving aliases to room ids
basic framework to get a /sync loop working

If you are into 3DS homebrew development or are interested in helping out making a full client based on this, please contact soru (@sorunome:sorunome.de)! 3ds homebrew dev is pretty new to her, so there are plenty of open questions / debugging help would be great!

Support room: #matrix-3ds-sdk:sorunome.de Donate: https://liberapay.com/Sorunome
This is really impressive, I'm looking forward to playing with it. (I'm sure someone at the office must own a 3DS!)
koma
yuforia offered:
koma, Kotlin library for building clients: Added API for retrieving notifications.
Dept of Ops 🛠
mvgorcum/docker-matrix
Mathijs announced:
I uploaded the synapse 1.4.1 image to mvgorcum/docker-matrix:v1.4.1 within about half an hour after the release
docker image of synapse-develop
Mathijs announced:
I've made a docker image of the develop branch of synapse, and automated it to build daily. It's on my docker hub as mvgorcum/docker-matrix:develop, based on the avhost dockerfile. Note that there are no checks, the image is simply built from the develop branch of the synapse git repo every night.
Matrix Synapse for Kubernetes
Ananace offered:
just pushed Version 1.4.1 of the Matrix Synapse for Kubernetes packaging. A bit fiddly to do on a phone 🙂
Synapse 1.4.1 multi-arch docker image
Black Hat told us:
I'm building the Synapse 1.4.1 multi-arch docker image. It will be pushed to Docker Hub in a couple of hours.
Dept of Tulir 🇫🇮
A special section this week from the guy with one editor open for everything, tulir:
I haven't done anything on my own projects this week, but I did contribute to a bunch of other projects:

Updated SmsMatrix to the latest matrix-android-sdk to fix outgoing sms duplication bug (https://github.com/tijder/SmsMatrix/pull/60)
Fixed Riot web sending reply fallbacks in edited message content (https://github.com/matrix-org/matrix-react-sdk/pull/3551)
Fixed some things in the Riot web edit html -> markdown parsing (https://github.com/matrix-org/matrix-react-sdk/pull/3552)
Made Riot web reply rendering much nicer and more compact (https://github.com/matrix-org/matrix-react-sdk/pull/3553)
Added full emoji picker for reactions to Riot web (https://github.com/matrix-org/matrix-react-sdk/pull/3554)

The first two are already merged (and SmsMatrix even got a new release on f-droid), the html parsing is waiting for code review and the emoji picker and reply rendering are waiting for design review.

Also, I made a read-only status.matrix.org rss feed room since some people wanted one: #matrix.org-status:maunium.net. I don't remember if I TWIMed these before, but #xkcd:maunium.net and #commitstrip:maunium.net are similar read-only rooms, new xkcds and commitstrips are posted there whenever they come out.
Dept of Ping 🏓
| Rank | Hostname | Median MS |
| --- | --- | --- |
| 1 | matrix.tetraodon.nl | 340 |
| 2 | flip.earth | 353.5 |
| 3 | matrix.bn4t.me | 397.5 |
| 4 | midov.pl | 435 |
| 5 | aragon.sh | 443 |
| 6 | finallycoffee.eu | 493 |
| 7 | dodsorf.as | 564 |
| 8 | matrix.vgorcum.com | 575.5 |
| 9 | maunium.net | 595 |
| 10 | room409.xyz | 598 |
That's all I know 🏁
See you next week, and be sure to stop by #twim:matrix.org with your updates!